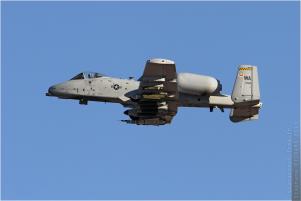 _ stanak le 06.09.2017
Le 6 septembre 2017, deux A-10 se sont percutés en vol lors d'une mission d'entraînement à l'appui aérien rapproché de nuit dans le désert du Nevada. L'élève pilotant le A-10 n°79-0204 n'avait pas respecté la procédure de séparation. Les deux pilotes furent retrouvés indemnes.
update: 01.04.2013
"All photos are copyright © to their respective photographers and may not be used without proper permission."